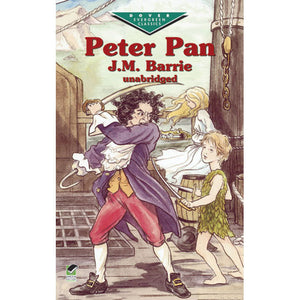 Popular fantasy about Peter, the boy who won't grow up, and his companion Tinkerbell, transports young readers to Never-Never Land where together with Wendy and the other Darling children they meet Princess Tiger Lily, the Lost Boys, and the nasty Captain Hook. Inexpensive, completely unabridged edition promises to enchant new generations.
Grade Level: 4-7 (ages 9 - 12)

Book Dimensions: 5-3/16" x 8-1/4"

160 Pages

Note: The retail prices are marked on the back of these books but these books are nice enough that you could re-sell them at a fundraiser for more than retail if you wanted to.