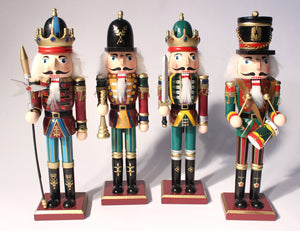 *** THIS IS A CLOSE OUT SALE AT HUGE DISCOUNT BELOW COST, PRICING IS FOR ENTIRE QUANTITY AVAILABLE.***
Decorative Hand-Painted Nutcracker Ornaments stand about 12" tall.  These lovely Nutcrackers make wonderful performance gifts for a dancer in The Nutcracker Ballet or for Nutcracker collectors!  Available in 4 styles. These Nutcrackers are imported and are not made in the USA.
**Not designed for cracking real nuts! For decorative purposes only.
Note: These Nutcrackers are not intended to be toys. Not recommended for children under age 6.