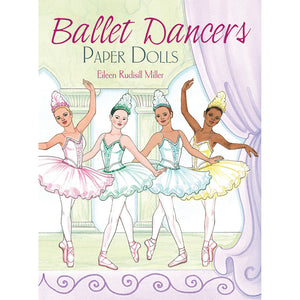 ***THIS IS A CLOSE OUT SALE AT HUGE DISCOUNT BELOW COST, PRICING IS FOR ENTIRE QUANTITY AVAILABLE.***
Two unique reversible punch-out dolls provide young dancers with four ballerinas of diverse backgrounds (including Caucasian, Asian, Hispanic/Latina, and African-American).  A fabulous wardrobe of 32 glamorous outfits features 8 lovely costumes for each unique dancer.  Remove the dolls, cut out their costumes and open up the inside cover — you'll find a charming stage backdrop for their performances! 
Author:

Eileen Rudisill Miller

4 paper dolls with 32 costumes
Book Dimensions: 8-1/4" x 11"
Grade level:

1 - 3 (ages 6 - 10)

32 Pages, Paperbound
Note: The retail prices are marked on the back of these books but these books are nice enough that you could re-sell them at a fundraiser for more than retail if needed.