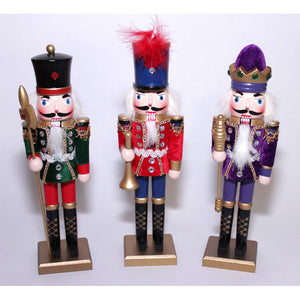 *** THIS IS A CLOSE OUT SALE AT HUGE DISCOUNT BELOW COST, PRICING IS FOR ENTIRE QUANTITY AVAILABLE.***These traditional hand-painted Wooden Nutcrackers stand approximately 12" tall. The jacket of each of these nutcrackers is covered in soft velveteen.  Painted with red, green, purple, and gold details. Each one is packaged in a gift box with a window.
These Nutcrackers are imported and are not Made in the USA.
**Not recommended for cracking nuts! These are for decorative purposes only.
Note: These Nutcrackers are not intended to be toys. Not recommended for children under age 6.