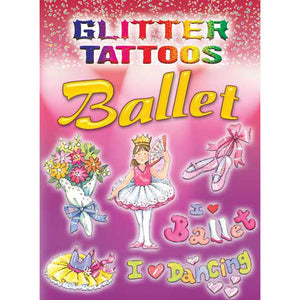 Ballet fans may pirouette with joy at the sight of these colorful tattoos that praise their favorite pastime. And every aspiring ballerina will want to adorn her arms and legs with this glittering assortment of temporary body art. Eight colorful images include dainty ballet slippers, a ribbon-trimmed tutu, a floral bouquet for opening night, and delightful declarations such as "I Love Ballet." A magical dash of glitter makes it a truly sparkling celebration!
8 full-color temporary tattoos
Book Dimensions: 4-1/16" x 5-3/4"
Grade level: Preschool - 5 (ages 3 - 10)
Note: The retail prices are marked on the back of these books but these books are nice enough that you could re-sell them at a fundraiser for more than retail if you wanted to.