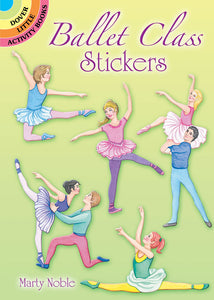 ***THIS IS A CLOSE OUT SALE AT HUGE DISCOUNT BELOW COST, PRICING IS FOR ENTIRE QUANTITY AVAILABLE.***
Twenty full-color peel-and-apply illustrations depict girls and boys in traditional ballet outfits correctly performing an arabesque, a sissonne, grand battement, grand jeté, pas de chat, pirouette, brisé volé, attitude penché (with partner), pas de bourrée, and more.
Book Dimensions: 4-1/16" x 5-3/4"

4 pages

We have 11 copies in stock with the out-of-print beige cover.  The remaining inventory has the yellow-green cover as seen in the second image.

Note: The retail prices are marked on the back of these books but these books are nice enough that you could re-sell them at a fundraiser for more than retail if you wanted to.