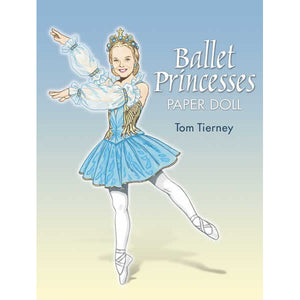 "Would-be" fairy tale princesses and aspiring ballerinas will find this charming collection combines the two subjects: ballet dancers in lavish costumes and royalty from faraway lands. Paper doll fans will love dressing this little ballerina in beautiful costumes designed for regal figures in classical ballets.
Artist Tom Tierney has recreated a collection of lovely dresses worn by dancers for their roles as princesses in eight world-famous ballets, including a glistening outfit for the Snow Princess in Tchaikovsky's The Nutcracker, a brilliantly colored robe worn by the Princess Bride in Stravinsky's Firebird, as well as gorgeous apparel from The Sleeping Beauty, Raymonda, Cinderella, Turandot, Swan Lake, and La Bayadere. Accompanying notes provide brief outlines of each ballet.
1 doll, 8 costumes
Book Dimensions: 9-1/4" x 12-1/4"
Grade level: 3 - 6 (ages 8 - 12)
16 Pages
Note: The retail prices are marked on the back of these books but these books are nice enough that you could re-sell them at a fundraiser for more than retail if you wanted to.

This item is out-of-print and cannot be back-ordered.