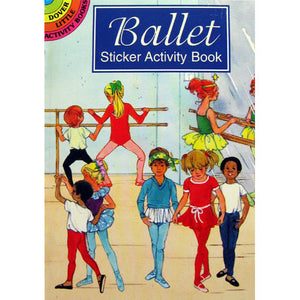 ***THIS IS A CLOSE OUT SALE AT HUGE DISCOUNT BELOW COST, PRICING IS FOR ENTIRE QUANTITY AVAILABLE.***
Apply 16 delightful images of boys and girls practicing basic steps, working out at the barre, and more to a backdrop inside the book's cover showing a practice studio. Great sticker fun for young ballet fans!
Book Dimensions: 4-1/16" x 5-3/4"
Grade level: Preschool - 3 (ages 4 - 8)
Note: The retail prices are marked on the back of these books but these books are nice enough that you could re-sell them at a fundraiser for more than retail if you wanted to.