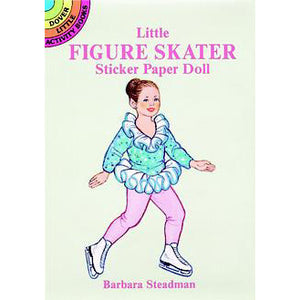 Janet loves figure skating - she practices every day, performs in amateur competitions and hopes to skate in the Olympics someday! Just lift off the reusable costumes and place them on the doll inside the back cover. Put the stickers back on the pages for playing again. This exciting collection features glamorous dresses and headpieces, a tux with top hat, and a cat costume.
1 doll, 4 costumes

Book Dimensions: 4-1/16" x 5-3/4" 4 Pages

Note: The retail prices are marked on the back of these books but these books are nice enough that you could re-sell them at a fundraiser for more than retail if you wanted to.