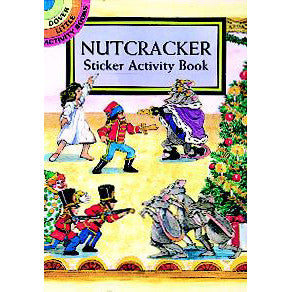 Tchaikovsky's beloved Nutcracker ballet has delighted theatergoers of all ages for generations.  Now, children can reenact this popular holiday classic with this colorful activity book. Twenty reusable stickers include Herr Drosselmeyer, Clara with the Nutcracker, Fritz, Pierrot, Columbine Doll, Clara's parents, the Mouse King, toy soldiers, mice, a Russian dancer, Mother Ginger, the Sugar Plum Fairy, and more!  Plus, there's a panoramic play scene on the inside front covers — the stickers can be applied again, and again, and again! 
Author/Editor:

Carolyn Ewing

Book Dimensions: 4-1/16" x 5-3/4"
Grade level:

Kindergarten - 3 (ages 4 - 8)

4 Pages, Paperbound
Note: The retail prices are marked on the back of these books but these books are nice enough that you could re-sell them at a fundraiser for more than retail if you wanted to.