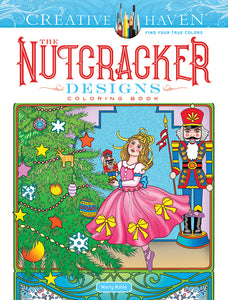 ***THIS IS A CLOSE OUT SALE AT HUGE DISCOUNT BELOW COST, PRICING IS FOR ENTIRE QUANTITY AVAILABLE.***
Excerpt from inside cover:
"From the fearsome Nutcracker to the charming Marie, the characters from E. T. A. Hoffman's beloved Story of the Nutcracker come to life in these gloriously illustrated pages.  Intricate designs of all sorts - including mandalas and symmetrical patterns, many with cleverly drawn borders - portray scenes from the tale as well as the popular Nutcracker Ballet.  Beautifully adorned Christmas trees bring the holiday spirit to the pages too! Join the soldierly Mouse Kin, the Elegant Spanish dancers, Mother Ginger in her enormous skirt, and many other enchanting figures as you enter the wondrous realm of the Nutcracker.  Just select the colors of your choice as you enjoy the artistic possibilities of this very special collection.  Plus, the perforated, unbacked pages make displaying your work easy!"
Author/Editor: Marty Noble
Dimensions: 

8-1/4" x 10-7/8"

Pages: 32 one-sided illustrations designed for coloring.

Age group: Designs for adults, but suitable for ages 10+

Note: The retail price is printed on the back of this book.  This high-quality book could be sold at a fundraiser for higher than the retail price if desired.